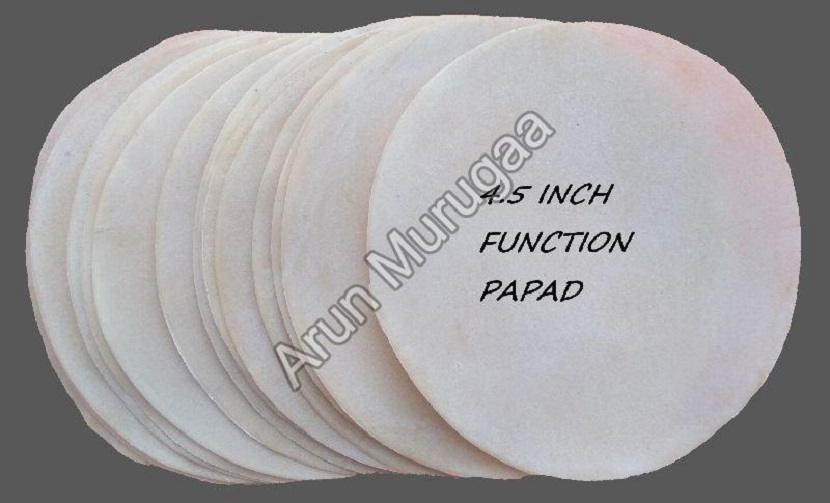 Round Plain Papad is a thin Indian wafer added with the flavour and benefits of Indian lentils. It is usually prepared with dried lentils eaten fried or roasted. The Papad is made with numerous flavours and tastes as per the different desires. The composition of Papad differs by adding many kinds of ingredients such as cereal flour, pulse flour, soya flour and various types of chemical mixes. It is served in the form of a companion to other food items as a snack. There are essentially two varieties of Papad supplied in the market by Round Plain Papad suppliers are North Indian Papad and south Indian Papad.
The right way of making Round Plain Papad
Round Plain Papad is prepared with the help of lentils or pulses. The pulses mostly used are Chana daal and urad daal are mixed to make flour. The dough is prepared by using oil, spices and flour. It is substantial to endure consistency in making dough. Adequate oil should be put in to increase the tensile strength of the dough. Make small rolls or make small lumps. These rolls are cut into slight pieces. It is important to make chapatti of the lump. It should be thin and dried in the open sun. For the above recipe, it needs to take two medium-sized Round Plain Papads. In case, it's difficult to make Papad, you can purchase them from the grocery store too.
Different meal grouping of the Round Plain Papad
It is essentially served as a companion to the Indian meal
Can be eaten as an appetizer with the toppings such as chopped onions, chutney, dips etc.
In some parts of India, it is consumed in the socked form of a Papad curry
Masala Papad are a spicy form of the plan Papad very enjoyable to eat
More serving options of the Round Plain Papad
It can be munched as a snack
It can be served with the soup or the main meal
It can be crushed and consumed with the rice
It can be a very good mate of the numerous Indian thali
The raw Papad can be used as a coating for kebabs and tikkas
How to store the Round Plain Papad?
It is advisable to be stored in an airtight container for more than one year. Frequently you can keep it in an airy place to keep its crunchiness preserved. It is also sensible to purchase small packs of the Round Plain Papad as per the consumption needs.
Is eating Papad healthy?
According to many researchers and hospitals, in Mumbai, eating Papad is a great idea. Many studies say, "Various variants of Papad are full of sodium and potassium. They also hold a healthy amount of magnesium, iron, and carbohydrates. The finest option is to eat homemade Papad so that you can keep a check on the number of components. That way you can relish a healthier version of your favourite Papad.
Health benefits of Round Plain Papad
1. Low-calorie food
Need to battle the bulge? We have an impeccable solution for you. You can opt for plain Papad but ask the expert first. Also, eat a quantity that is suggested by them.
2. Papad aids digestion
"Do you facing digestive issues? If yes, nosh on that crispy Papad. It creates digestive enzymes by easing the digestion process.
Also, it supports tackling other gut problems by encouraging good bacteria in the gut.
3. it's gluten-free
Plus, it is also high in protein and can be liked by people across age groups. But, remember not to go overeat. An additional thing to keep in mind is that you must choose the roasted version and not the fried ones.
4. Packed with fibre
Fibre is exceptionally important, so make sure to have foods packed with it frequently! Papad has it in substantial amounts and helps regulate bowel movements. Due to this cause, it also helps in keeping your weight in check.
Qualities of a good Round Plain Papad supplier
Finest delivery turnaround time
Able to deliver the clients by the cumulative level of freshness
Maintaining high values for packaging of our products
Make certain that products stay fresh and aromatic
Verifies that no package is shipped without a severe quality check