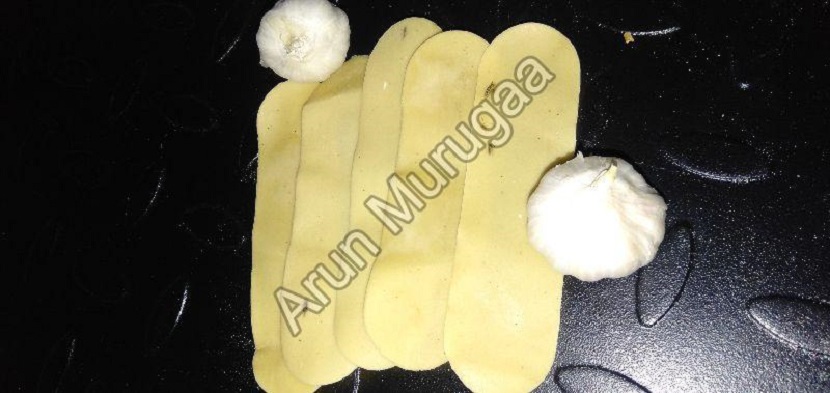 If you are looking for some healthy and delicious snacks for your breakfast or evening tea, you can choose Garlic Chips Papad.
Let's consider the fact that one or two pods of garlic can make the food tasty as well as better. Garlic has a special position in every kitchen across the world. It is a good way to explore any food item; you will discover a widespread usage of the foodstuff in about every special dish. It possesses a special aroma and flavor to boost the complete flavor of any food without much fight back. And what adds to its fame is its profile of the nutrient. For the last many years, Garlic has been an important medical practice. You can enjoy it fried, roasted, and raw in any shape, garlic brings benefits for the health in the best possible means.
If you are a food lover and wish to try out something different and delicious Garlic Chips Papad can be a better choice for you. No matter, we need a side dish for snacks or lunch for evening tea; papad has forever worked as a rescue in the majority of the Indian homes. Papad is called a snack used in Indian from last many ages from different cultures.
Sometimes, the staple crop of an area would get affect the ingredients that go into preparing the papad. The old ladies like the grandmothers have mastered the crafting of the papad at home.
The majority of us don't familiar with the right recipes that they work out. You can look ahead with a never-ending quest for testing; we have found several diverse methods to make it.
Papad is essentially a crispy wafer or cracker, a fastener food in India. Find your snacks or appetizers made quickly or quickly! You can serve with chutney or as an accessory to the chief course. Papad has crushed garlic and cumin seeds. The papad is round in shape and pale yellow in color.
Ingredients
The top ingredients used are urad flour, edible vegetable oil, asafoetida, and garlic and salt. You should purchase only the FSSAI papad packet. As far as storage is concerned, you can store them for 3 months. The amazing taste of the papad is salty and has a garlic taste.
Find a good manufacturer and Garlic Chips Papad Supplier
No doubt, it works as a healthier and calorie-conscious choice to deep-fried snacks like crisps and chips, etc. However, it is the right choice to work during a cold, rainy day, with a cup of chai, the eat to prepare and eat snack is light enough to enjoy on a hot summer's day with a glass of juice, or to take along to office or school in a snack box. For some people, tea time is not complete without adding snacks. You can place an order online and get the delivery direct at the doorstep. It is advised to store in a cool and dry place.